Sale!
Precision 1 (30 lenses)
Read Product Description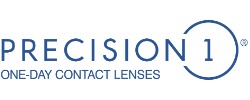 30 Daily Contact Lenses
Precision 1 are high-quality daily contact lenses from the leading manufacturer, Alcon. Each lens features innovative SmartSurface® Technology, with a thin layer of moisture that ensures the water content reaches 80% of the surface for maximum hydration. By locking in moisture throughout the day, your eyes will remain comfortable from breakfast until bedtime. Made from a modern silicone hydrogel, Verofilcon A, Precision 1 offer exceptionally crisp and healthy vision. In addition, an in-built UV blocking filter adds an extra level of protection against harmful UVA and UVB sun rays. Plus, a handling tint allows for an easy and simple application process, particularly helpful for first-time wearers.

High-quality daily disposable contact lenses that are convenient and hygienic
SmartSurface® Technology ensures long-lasting hydration and comfort
Made from silicone hydrogel to provide crystal-clear, healthy vision
A handling tint guarantees an easy application process for first-time wearers
Class 1 UV blocking filter offers extra protection from harmful sun rays
Pack of 30 daily contact lenses

---
Order Precision 1 contacts today and benefit from:
Our online chat agents are here to help you from Monday to Friday 8:00-17:00.
The lowest price in last 30 days: €20.89.
(inc. VAT)
inc. Free Shipping to selected countries
Dispatch Estimate:
1
Day
Days
Quantity Discounts
Enjoy the quantity discount even on different powers of the same brand.
How To Read Your Prescription
How To Read Your Prescription
Find the following data on your contact lens box or refer to your prescription.
Power
Description
Strength of Lenses – can be either a (-) or a (+) value.
Base Curve
Description
A value between 8.0 and 9.0 and denotes how rounded the lens is.
Diameter
Description
A value between 13.8 and 14.5 which is product specific and gives the diameter of the lens.
Cylinder
Description
Correction of the lenses for astigmatism.
Axis
Description
A value from 0 to 180 which indicates the degree at which the lens provides the astigmatic correction.
Addition
Description
Expressed as Low, Medium or High.
Product Specifications
Product Specifications
Product Category:
Product Subcategory:
Product Manufacturer: Alcon
Product Brand:
Product Power:
Product Base Curve:
Product Diameter:
Product Material:
Product Water Content:
Product Packaging:
Product Lens Type:
What Our Customers Are Saying