Sale!
Acuvue Oasys Multifocal (6 lenses)
Read Product Description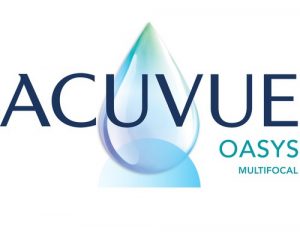 6 Bi-weekly Contact Lenses
ACUVUE OASYS Multifocal
contact lenses are the perfect solution for patients who suffer from presbyopia. Thanks to their unique and leading-edge optical properties, these lenses effectively ensure clear vision across all distances -- near, far and in between. These lenses are made from a popular 
silicone-hydrogel material called Senofilcon A
. This material has been thoroughly tested and proven to be highly effective at ensuring long-term comfort on a daily basis, thanks to its capacity to help stabilise the tear film. The lenses have also been enhanced with a UV blocking filter, which absorbs 99% of all UVB and 96,10% of all UVA. Do keep in mind that a contact lens only covers a small part of the eye, so it's advised to also wear other UV protective eyewear such as sunglasses. These lenses are suitable for both daily wear (when you remove, clean and store lenses overnight, each day) and continuous wear (when lenses are not removed for an extended period of time). If these lenses are removed and stored daily, they need to be replaced after 14 days of use. If these lenses are worn continuously, they need to be replaced after 7 days of use. Continuous wear shortens the replacement schedule.
Bi-weekly contact lenses
Balanced vision near, far and in between.
Box of 6 Contact Lenses.
Select add power as so: LOW (to +1.25) MED (to +1.75) HIGH (to +2.50)
---
Order Acuvue Oasys Multifocal contacts today and benefit from:
Our online chat agents are here to help you from Monday to Friday 8:00-17:00.
The lowest price in last 30 days: €60.69.
(inc. VAT)
inc. Free Shipping to selected countries
Dispatch Estimate:
7
Day
Days
Quantity Discounts
Enjoy the quantity discount even on different powers of the same brand.
How To Read Your Prescription
How To Read Your Prescription
Find the following data on your contact lens box or refer to your prescription.
Power
Description
Strength of Lenses – can be either a (-) or a (+) value.
Base Curve
Description
A value between 8.0 and 9.0 and denotes how rounded the lens is.
Diameter
Description
A value between 13.8 and 14.5 which is product specific and gives the diameter of the lens.
Cylinder
Description
Correction of the lenses for astigmatism.
Axis
Description
A value from 0 to 180 which indicates the degree at which the lens provides the astigmatic correction.
Addition
Description
Expressed as Low, Medium or High.
Product Specifications
Product Specifications
Product Category:
Product Subcategory:
Product Manufacturer:
Product Brand: Acuvue
Product Power:
Product Base Curve:
Product Diameter:
Product Addition: HIGH
Product Material:
Product Packaging:
Product Lens Type:
What Our Customers Are Saying