Sale!
Freshlook Dimensions – Carribean Aqua (2 lenses)
Read Product Description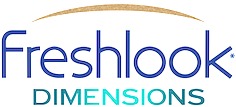 Monthly Coloured Contact Lenses
Freshlook Dimensions are coloured monthly disposable contact lenses manufactured by Alcon. An excellent choice to enhance naturally light eyes.
Freshlook Dimensions pack of 2 contact lenses  is available only without vision correction.
For Fresh Look Dimensions with vision correction view the FreshLook Dimensions 6pack here.
Available in Sea Green, Pacific Blue & Caribbean Aqua
Each Box contains 2 contact lenses 

(also available a box of 6 contact lenses)
Freshlook ColorBlends require using a contact lens
solution
 and a contact lens 
case
.
All colour descriptions and effects are approximate. Your natural eye colour will effect result. Even if worn for cosmetic reasons,  contact lenses are medical devices. They must only be worn under the supervision of an eye care professional.  Do not share lenses. Serious eye problems may occur as a result of this.
---
Order Freshlook Dimensions contacts today and benefit from:
Our online chat agents are here to help you from Monday to Friday between 8:00-17:00.
inc. Free Shipping to selected countries
Dispatch Estimate:
1
Day
Days
Quantity Discounts
Enjoy the quantity discount even on different powers of the same brand.
How To Read Your Prescription
How To Read Your Prescription
Find the following data on your contact lens box or refer to your prescription.
Power
Description
Strength of Lenses – can be either a (-) or a (+) value.
Base Curve
Description
A value between 8.0 and 9.0 and denotes how rounded the lens is.
Diameter
Description
A value between 13.8 and 14.5 which is product specific and gives the diameter of the lens.
Cylinder
Description
Correction of the lenses for astigmatism.
Axis
Description
A value from 0 to 180 which indicates the degree at which the lens provides the astigmatic correction.
Addition
Description
Expressed as Low, Medium or High.
Product Specifications
Product Specifications
Product Category:
Product Subcategory:
Product Manufacturer: Alcon
Product Brand: Freshlook
Product Color: Blue
Product Power:
Product Base Curve:
Product Diameter:
Product Material:
Product Water Content:
Product Packaging:
Product Lens Type:
What Our Customers Are Saying