Acuvue Oasys for Presbyopia (6 lenses)
Read Product Description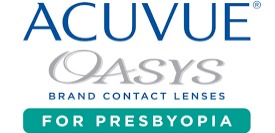 6 Bi-weekly Contact Lenses
Acuvue Oasys for Presbyopia
are the latest generation of 2 weekly disposable contact lenses by the market's leading manufacturer – Johnson & Johnson. These contact lenses are designed to provide superior near, far, and in-between vision.
Bi-weekly contact lenses
Balanced vision near, far and in between.
Hydraclear Plus technology minimizes dryness
Box of 6 Contact Lenses.
Select add power as so: LOW (to +1.25) MED (to +2.00) HIGH (to +2.50)
---
Order Acuvue Oasys for Presbyopia contacts today and benefit from:
Our online chat agents are here to help you from Monday to Friday 8:00-17:00.
inc. Free Shipping to selected countries
Dispatch Estimate:
7
Day
Days
Quantity Discounts
Enjoy the quantity discount even on different powers of the same brand.
How To Read Your Prescription
How To Read Your Prescription
Find the following data on your contact lens box or refer to your prescription.
Power
Description
Strength of Lenses – can be either a (-) or a (+) value.
Base Curve
Description
A value between 8.0 and 9.0 and denotes how rounded the lens is.
Diameter
Description
A value between 13.8 and 14.5 which is product specific and gives the diameter of the lens.
Cylinder
Description
Correction of the lenses for astigmatism.
Axis
Description
A value from 0 to 180 which indicates the degree at which the lens provides the astigmatic correction.
Addition
Description
Expressed as Low, Medium or High.
Product Specifications
Product Specifications
Product Brand: Acuvue
Product Manufacturer:
Product Packaging:
Product Lens Type:
Product Estimated Dispatch Time:
Product Handling Tint: Yes
Product In And Out Mark: Yes
Product UV Protection: Yes
Product Material:
What Our Customers Are Saying